Biography
Terror Terror Everywhere Nor Any Stop to Think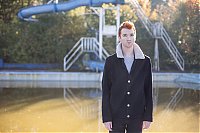 Theo Clark is coming with an intense and dark first album, "Terror Terror Everywhere Nor Any Stop to Think".

According to the titles, he depicts the atmosphere of growing terror that is burning our societies. An intimate and corrosive disc that raises contemporary and meaningful questions. Armed with guitars, Clark and his group address issues such as the alienation of the individual in the era of social networks, the role of the medias in the fear of terrorism, and the collective disempowerment of the refugee crisis. Hot topics, approached as they are perceived, sometimes with the sweetness of pop, sometimes with the rage and the blackness of a rock soaked and terrifically terrifying, all orchestrated and produced by the masterly hand of Boris Gronemberger (VO) and recorded under the meticulous gaze of Laurent Eyen at the Koko Studio.

On stage, it is an incessant surge of energy, a hybrid and psychedelic mixture of six screaming strings and keyboards that takes to the guts.

"Terror Terror Everywhere Nor Any Stop to Think" will be released on October 21st on Anorak Supersport and will be distributed by COD&S.