Biographie
Terror Terror Everywhere Nor Any Stop to Think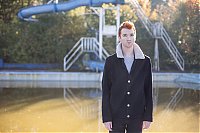 Theo Clark débarque avec un premier album intense et sombre, "Terror Terror Everywhere Nor Any Stop to Think".

Au gré des titres, il y dépeint l'ambiance de terreur croissante qui embrase nos sociétés. Un disque à la fois intime et corrosif qui soulève des questions contemporaines et lourdes de sens. Armés de guitares, Clark et son groupe abordent des thèmes tels que l'aliénation de l'individu à l'ère des réseaux sociaux, le rôle des médias dans la peur du terrorisme et la déresponsabilisation collective face à la crise des réfugiés. Des sujets brûlants, abordés tels qu'ils les perçoivent, tantôt avec la douceur de la pop, tantôt avec la rage et la noirceur d'un rock trempé et terriblement terrifiant, le tout orchestré par la main magistrale de Boris Gronemberger (V.O.) à la production et enregistré sous le regard méticuleux de Laurent Eyen au Koko Studio.

Sur scène, c'est un déferlement incessant d'énergie, un mélange hybride et psychédélique de six cordes hurlantes et de claviers qui prend aux tripes.

"Terror Terror Everywhere Nor Any Stop to Think" sera disponible le 21 octobre sur Anorak Supersport et sera distribué par COD&S.