Biography
Another indian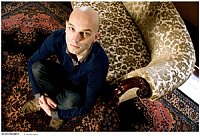 Solo project launched at the beginning of the millenium by Jerome Mardaga.
Luckily the first demo will find the way of radios, concerts and -most of all- a contract with Anorak Supersport. The first album entitled "un monde sans moi" will be released in spring 2002 and received an unexpected success.
Meanwhile, Jerome assembled a trio and begins touring during two years in all the french-speaking world and Spain. The band grows step by step thanks to very impressive scenic performances. The second album, the enigmatic "12H33" was recorded after that never-ending tour and was released in spring 2005.
The third album "Mélodies Démolies" was released in 2008. Here comes his new and fourth album called "Zinzin" after 5 silent years...